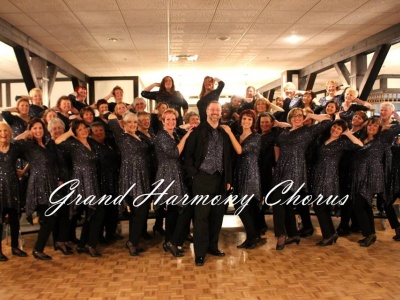 MICHIGAN – It was well worth the drive to the Dearborn Performing Arts Center in Dearborn, MI for the members of the Grand Harmony Chorus, including several from Cambridge, Elmira, New Hamburg, Guelph, Kitchener, Harriston, Listowel, Kenilworth, St Agatha, New Dundee, Plattsville and Waterloo. Led by their award-winning director, Chris Arnold, this local women's barbershop chorus returned home with medals after finishing second in the mid-size chorus (31 to 60 members) and fourth in the overall chorus categories of the recent Sweet Adelines International Border Lakes Region 2 Competition held on April 14 to 16, 2016.
In the quartet competition, Grand Harmony Chorus' quartet, Rezonation (Lisa Thompson, Christine Heipel, Mary Adams and Dianne Ritz) proudly placed 7th.
More than 800 singers of all ages and varied backgrounds, making up 19 choruses and 12 quartets, took part in the regional competition. There are several upcoming opportunities to see and hear the ladies of Grand Harmony Chorus live: at the Victoria Park Pavilion in Kitchener on May 1st for the Death by Chocolate Spring Tea event; at the Final Fridays event in Uptown Waterloo on May 27th; and the Homer Watson House & Gallery in Kitchener for the Community Appreciation Day event at on May 29th. Visit our website, grandharmonychorus.com, for more details.