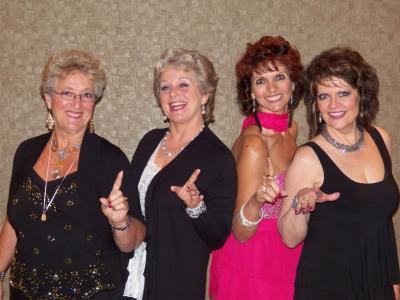 Zamira (meaning good voices) are all members of Grand Harmony.  We specialize in singing for club events, retirement homes,  weddings, banquets, church functions, Christmas party or event, backyard BBQ's, - for whatever event you'd like great entertainment! We tailor our program to your needs (20 minutes to one hour) and make sure our audiences have had as good a time as we always do!!
For more information, please contact Elaine at [email protected] or 519-662-9999.
Quartet Members:
Tenor - Norma Steinman
Lead - Elaine Lewis
Bass - Pat Martin
Baritone - Yvonne Gingerich
Testimonial from April 2018- "A Women's Day" presented by Waterloo District Women's Association:
Thanks again for ending our day on a high note.
The songs that you chose were very appropriate.
No one was sleeping and your received a standing ovation.
We were able to donate $1500 to the St. Mary's Cardiac Centre in the morning.
You helped us to achieve a successful event for our Annual Education Day for Waterloo Region-
I think our 14th year in this format.
Blessings,
Linda Stoltz