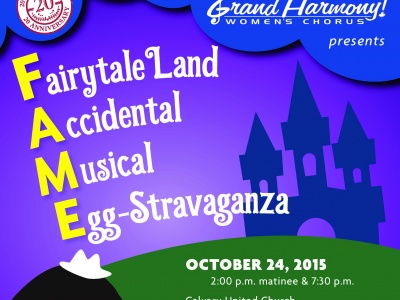 For Grand Harmony Chorus, fun-filled and flamboyant costumes and disguises were displayed on October 24, 2015 at Calvary United Church in St Jacobs, Ontario with our show, 'F. A. M. E.' as we also celebrated our 20th anniversary as a Sweet Adelines International chapter.
We commemorated our past by acknowledging our founders, presidents, team leaders and directors,  and enjoyed standing ovations for our musical comedic take on a favorite nursery rhyme, Humpty Dumpty.  Our colorfully attired chorus members and our quartets (A Touch of Class, Rezonation, Zamira, and Key Of She)  danced and sang about finding fame for Humpty Dumpty. A lot of white and gold adorned the stage when we sang our ABBA set and the musical stylings of our special guests, the awarding-winning men's quartet, Supertonic, were well received and enjoyed.
Many thanks to our stage co-directors, Susan St John and Diane Ritz; the production team; cast and crew and especially our audience for making this show another resounding success!