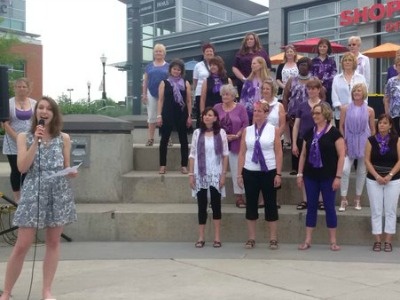 WATERLOO - Grand Harmony Chorus recently participated in the "Final Fridays" through the City of Waterloo Arts, Culture & Cuisine Experience on May 27, 2016 at Waterloo Town Square. On the last Friday of each month, residents are invited to explore the exciting arts, culture and cuisine of the city's core. From delicious dinner specials, to exciting community events, to great music and art exhibits, each Final Friday has something new to experience and showcases the amazing range of things taking place in Waterloo. Our Master of Ceremonies for this performance was Elaine Lewis, who welcomed and involved audience members. Our entertaining performance was directed by our award winning director Mr. Chris Arnold.
Grand Harmony Chorus is an energetic and dedicated group of women who are passionate about singing a cappella harmony. We share our love of singing through regular performances in the Kitchener-Waterloo area and we invite new singers to come and be part of this dynamic ensemble. Grand Harmony Chorus welcomes any opportunity to perform either through a full chorus, a smaller group, or an octet/quartet.
We are proud supporters of the Grand River Hospital Foundation Music Therapy Program. The therapy program is part of the cancer treatments, palliative care and mental health treatments for both adults and children. Ainslie Martin, shown in the picture, is a music therapist and registered psychotherapist working in the field of child and adolescent psychiatry. Ainslie is currently practicing in Child and Adolescent Inpatient and Outpatient Psychiatry at Grand River Hospital.