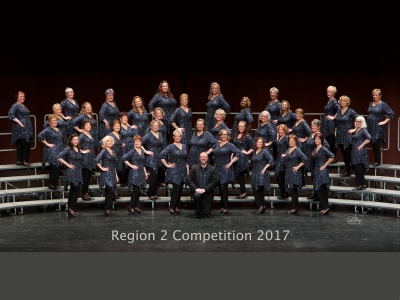 Press Release
MICHIGAN – Awards were overflowing at The Dearborn Performing Arts Center in Dearborn, MI for the ladies of the Grand Harmony Chorus, including several from Cambridge, Elmira, New Hamburg, Guelph, Kitchener, Harriston, Listowel, Kenilworth, St Agatha, New Dundee, Plattsville and Waterloo.
Led by their award-winning director, Chris Arnold, this local women's Waterloo area a cappella chorus returned home with medals after finishing 2nd Place in the mid-size chorus (31 to 60 members) and 3rd Place in the overall chorus categories of the recent Sweet Adelines International Border Lakes Region 2 Competition held on April 21 to 22, 2017.
In the quartet competition, Grand Harmony Chorus' quartets, Contour (Susan St John, Carrie Debrone, Judy Tuck, and Karen Schlueter) proudly placed 10th and won the Novice Quartet Award while Key of She (Donna Clark, Claudia Stewart, Roxanne Law, and Betty Wagner) placed 12th.
More than 700 singers of all ages and varied backgrounds took part in the regional competition.