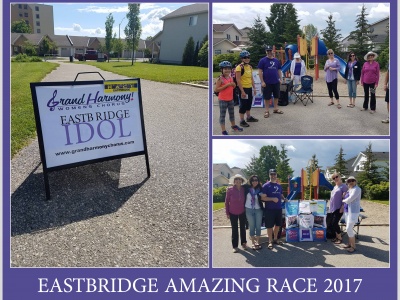 June 25, 2017, Eastbridge Community, Waterloo | Grand Harmony had such a blast running an 'Eastbridge Idol' Face-Off (sing-off) during the Eastbridge Neighbourhood Amazing Race.
Family teams ran through 30+ challenges and checkpoints. At our checkpoint, race teams were taught a 'tag' (i.e. small part of a song) in four part harmony. Teams sang in competition with each other. The winner moved on to their next clue while the other waited for the next team to come sing. It was ridiculously fun and we met some great singers in our neighbourhood! 
One of the tags was from the song, You Are So Beautiful. It's amazing how quickly complete strangers can create gorgeous harmony with the right tag!! The other song was a barbershop tag that we changed into an Eastbridge Idol tag. :-)
Race teams were made up of moms, dads, daughters, sons, and friends with anywhere from 2 players to 4+. They raced on bikes and on foot.
And despite a rain delay, thanks to a random massive thunderstorm (complete with hail), every family completed the course!!
Such a fantastic event. Can't wait for next year!