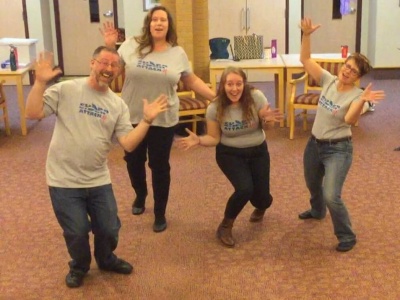 October 24, 2017 | Brand new mixed quartet, Sharp Attack, auditioned to be Grand Harmony's newest quartet tonight. The quartet is made up of Bass (and GH's director), Chris Arnold, Lead, Jennifer Goulden, Baritone, Julia Daly, and Tenor, Lindsay Restagno.
Equipped with shark socks and a lot of energy, the group performed modern a Cappella arrangements of songs from Pentatonix to Eric Clapton and a tongue-twisting barbershop oldie. The songs involved clapping, stomping, and fun harmonies! Their favourite hashtag? #dontsingalone 
Find them on Instagram or Facebook!